Panther A (left) and Panther G (right) at Aberdeen Proving Grounds in Maryland.
I have always had the dream to reproduce these awesome machines. I have a very nice garage now, but this is a rental house. Unfortunately with my job I move fairly regularly for now at least so I must rent, but the good news is that the owner is okay with my fabrication hobbies. (You know your weird when you pick a house based upon garage size and whether it's already wired for 220V!) The house is actually very nice- built in 1901, but that's not what you're here for!
My Goal: To produce a Panther tank in stages, using sales to finance the project. Eventually, I would like to produce series production with options such as G model, A model, late wheel pattern, binocular optics arrangement, nahverteidigungswaffe, etc- so you can specify what you desire for a specific impression. Construction costs are estimated at $40,000 for the initial vehicle and as more realistic refinements are made costs will escalate from there. Final production variant will be approximately $100,000, sale price.
Differences from an original Panther:
You can't blow anything up... but you certainly can drive over it!
Powered by a modern (circa 1980) gasoline engine, V8. Output should be less than 200hp for a realistic power to weight ratio. This choice is nearly entirely for cost, but also for reliability and availability of parts. The hand crank start will be deleted as it is not needed and is hazardous.
While the armor plate will be made of steel, it will stop a .22 at 50 yards at 30 degrees. I will use most likely 18 gauge mild rolled steel. While this needs no explanation this is for both weight and expense. Steel is getting very costly and there is no feasible way to transport a original weight Panther. I believe I can reduce the chassis weight, counting powerplant, driveline, and wheels, but no tracks, to around 13,000lbs. (Easily moved by a semi with a wide load permit.) The nose will be heavily reinforced, as will all edges likely to strike trees, etc. It would be über farby to have a bent nose. The thin plate will be folded and welded interlocked like the original to retain the thick appearance.
The inside, for both weight and expense reasons will be primarily a functional only arrangement. You will have much more room than the original vehicle, for better or worse. A few things (such as the gun) will be accurately modeled.
The tracks will probably need to be thinned. This is acceptable because the vehicle weight has been reduced by about 87% we won't need tracks several inches thick. This is good because quick estimations of track weight for the vehicle show that they weighed between 17,500 and 20,000 lbs. Too heavy for transport, not to mention the strain on the lower hull structure. I believe I can get them to about 8,000 pounds (total for both sides). This brings the vehicle weight to 21,000 lbs. Cake.

One cool idea for late in production is to include electronics which monitor turret position. Tied into a computer and hydraulics with five cylinders. Place a single cylinder each on the inside of torsion arms 1 and 8 on both sides. Place one inside the turret on the gun. When the gun is fired a solenoid fires the charge inside the barrel, the gun ram recoils the gun and slowly recovers, and the suspension hydraulics rock the vehicle appropriate to turret position. Way down the road, but man would it look cool!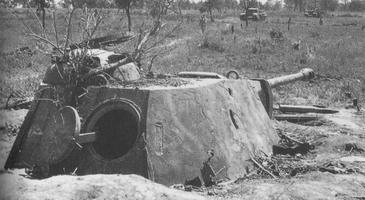 A Panther turret placed upon small subterranean bunker... obviously effective!

Objective 1- Produce an early model turret for use in Pantherstellung setup.
Phase 1- Acquire detailed measurements of the turret, blueprint them.
Complete
April 9th
'05
Phase 2- Select exact production details (cupola type, optics, hatches, etc.)
Complete
April 14th
'05
Phase 3- Acquire materials.
Complete April 15th
'05
Phase 4- Produce turret body.
Very close to finished- still need to make the rear extensions of the rear of the side plates and left side / front plate interlocks. Should take about 5 hours.

Phase 4b- Construct turret face and gun cradle.
Complete July 4th '05
(Still need the lower guard that goes under the cradle.)
Phase 5- Produce gun mantle.
Complete Aug 5th
'05
(Need to add internal brakes to prevent warpage, holes and gun tube.)
Phase 6- Produce gun barrel.
In production, internal bore (pipe) installed Dec'09, planning to weld on tapered sheet steel.
Phase 7- Produce cupola.
(Trying to figure out how to make the copy to cast from.)
Phase 8- Produce muzzle brake.
(Same as cupola)
Phase 9- Design and construct elevation mechanism (electric motor with manual backup).
Phase 10- Produce other external fittings.
Loader's Periscope guard complete 3Jun05
Phase 11- Produce firing simulator, and coaxial gas gun.
Parts on order!
Phase 12- Acquire and rig main gun (recoil) hydraulics, pump.
Phase 13- Build light field trailer that allows easy emplacement.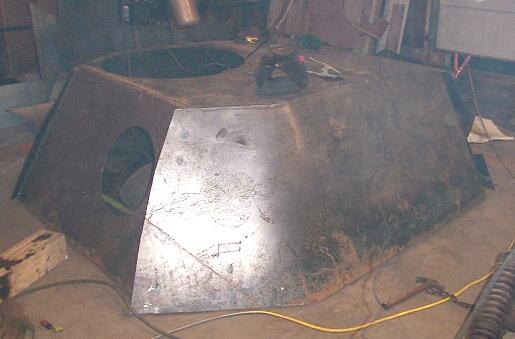 08May05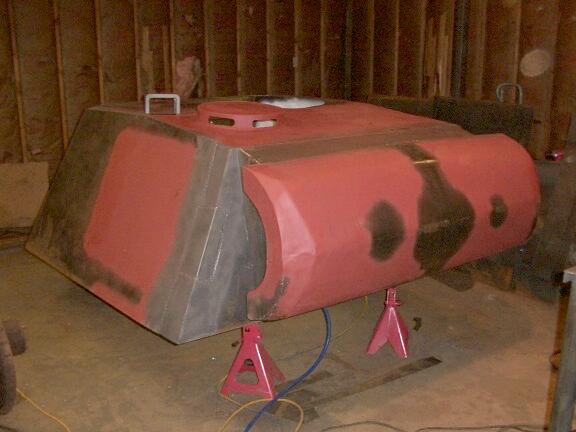 06Aug05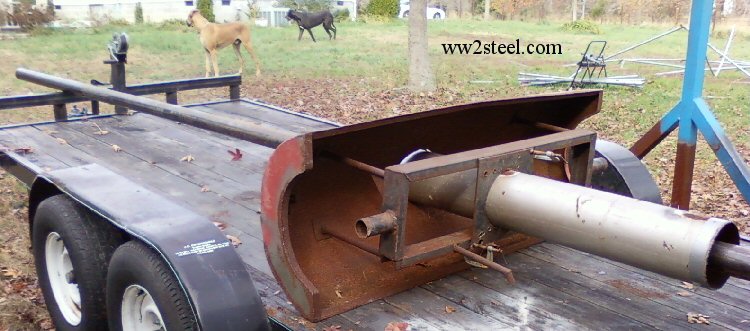 21Nov'09

01Jan'10
Objective 2- Produce a crude hull for testing.
(On hold, building a bunker lower first!)
Phase 1- Produce turret deck.
Phase 2- Construct turret ring and install turret.
Phase 3- Produce wheels, still haven't figured out the solid rubber tires.
Phase 4- Produce tracks (expensive- about $12,000)
Phase 5- Construct basic hull design with functional powerplant and driveline.
Progress so far. I went to Aberdeen. The museum staff was very friendly and gave me full access to the top of the tank. Unfortunately the turret is welded shut (did get to see the inside of a Brummbär and Jagdpanther though). They are very good to legitimate researchers. I bought some books by Tom Jentz and Hillary Doyle called
Panzer Tracts
on the Panther (and many other vehciles) which will be most helpful and I
highly
recommend them. I missed him by a day, he came out the following day. Would have been cool to meet him. I am getting a pretty large collection of books, especially on the Panther! Anyway- I got about a million measurements on the Panther A turret mainly (early model turrets on Ostwallturm), and got soaked with rain over about three steady hours. It sucked and was really fun at the same time.
Things to consider... Size. A normal trailer pulled by a pickup will be able to move the turret. For the tank, you will need a tractor trailer to transport this guy. It is over 11 feet wide, that's a wide load pretty much anywhere on this planet. You can consider buying an older rig and trailer (what I will do)- this will only put you out about $10k, depending how nice/new you go. If you pay a company to move it it will be exceptionally costly, I haven't priced that (
if you know how much this costs please email me)
. If you plan to move it you will have to go slow and be very careful on route planning and have a spotter vehicle (a reenacting buddy?) to find a route before you attempt it. There is also legal paperwork for each move permit. Height will not usually be a problem, except in rural areas.
E-mail me!
...if you have any suggestions, thoughts, etc (other than telling me I've lost my mind). If you wish to help, I really need assistance in parts finding. Most of the weird shaped parts have something already produced in modern times that we can use components of to help build. For example I plan on using modified plow discs for the road wheels.
See ya!
Mike
The Panther G turret- note the grenade mortar (nahverteidigungswaffe) on the right rear (the flat, circular item with rust around it).